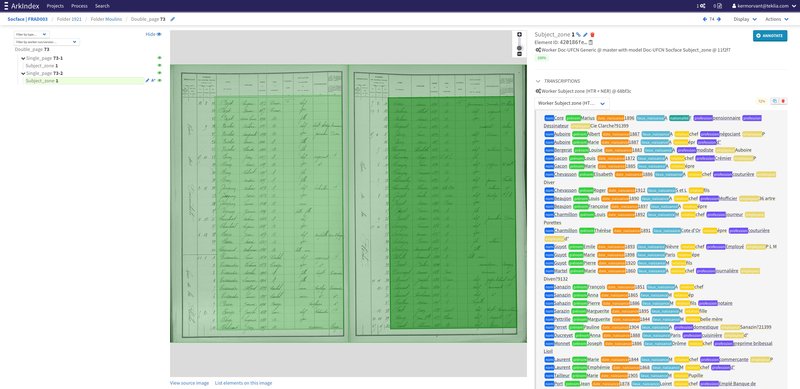 Features
Arkindex is the platform developed by Teklia for the automatic processing of large collections of scanned documents. Arkindex offers the following features:
Document management: import and organize images of document from files (jpeg, tiff, png), PDF, IIIF manifests or Transkribus exports.
Manual annotation: annotate images with

zones of elements on the image, with type and position
text transcriptions at any level (page, paragraph, line, word)
classifications
meta-data

Arkindex is fully integrated with Callico, for advanced collaborative annotation campaigns
Automatic layout analysis: automatically detect documents components (texts, images, graphics, etc)
Automatic printed and handwritten text recognition: for printed (OCR) and handwritten (HTR) documents
Automatic named-entity extraction: identify persons, places, organizations, etc.
Arkindex Workflow Management Capabilities
Arkindex offers extensive capabilities, unmatched by its competitors, for managing complex workflows tailored to your document processing needs:
Customisable Workflow Design: Arkindex gives you the freedom to define complex workflows tailored to your unique processing requirements. From layout analysis and classification to text recognition (OCR/HTR), named entity recognition and metadata generation, you can curate each step to achieve your desired outcome.
Real-time monitoring: Stay informed at all times. With Arkindex, you can monitor the progress of each task within your workflow in real time. This powerful feature provides you with an estimated time of arrival for each step, ensuring you can make informed decisions and adjust resources as necessary.
Error Analysis & Rerun: Not all processes run perfectly every time. Arkindex understands this and provides tools to analyse any errors that may occur in your workflow. Once identified, you can easily rerun processes for those specific elements, ensuring consistency and accuracy.
Flexible Processing Nodes: To accommodate different infrastructure requirements, Arkindex provides the flexibility to distribute your processing tasks across multiple nodes. Whether it's on-premises, in a cloud environment or even on high performance clusters using SLURM, we've got you covered.
Seamless integration with custom & open source components: Arkindex is not limited to its built-in functionality. You can effortlessly define your processing steps using your proprietary code or benefit from the vast ocean of open source components available. Docker integration makes integrating these components easy.
With Arkindex, you don't just invest in a tool, you invest in a comprehensive solution that ensures your document processing tasks are both efficient and scalable.
Arkindex is based on IIIF (https://iiif.io/) for images and is fully accessible through a REST API.
Arkindex can be used in the cloud or installed on-premise.
Try it : https://demo.arkindex.org
Projects done with Arkindex:
Arkindex releases:
We aim to produce high quality software at Teklia: you can view the details of our latest releases on this website.