UI
Element, Project and Process UUIDs displayed in the frontend are now copyable.

Process logs now support color ANSI escape codes, allowing for a prettier/clearer display in the Process status page.
Workers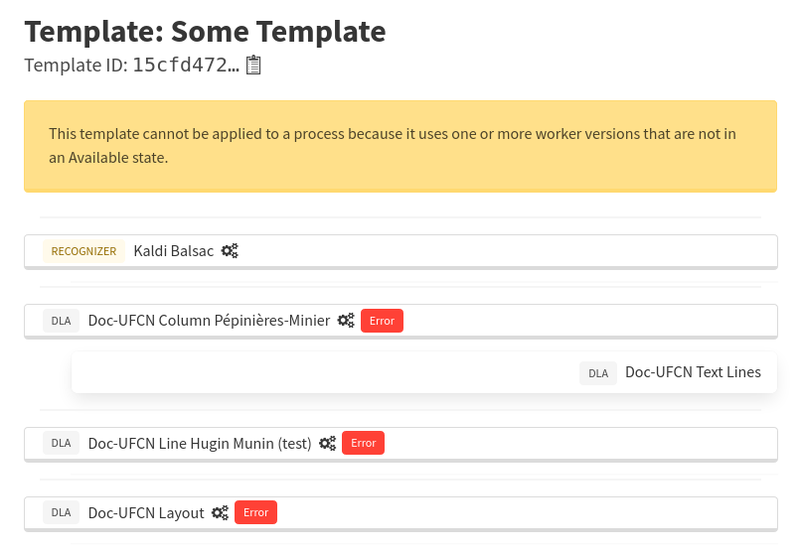 It is no longer possible to create Worker Runs, start Processes, apply Templates or build Task recipes using Worker Versions that are not available, and warnings are displayed when trying to do so.
All Worker Activity objects must now have a process_id set. Deleting any process will delete all worker activities and not just the ones in a queued state.
When a process does not have a workflow, the frontend now displays an information notification, instead of a never-ending loading notification. This could occur when workflows expire.

S3 Import
PDF files are now imported from S3 buckets into Arkindex as folders, with one element per page. Any transcriptions they contain are imported as well.
API
Elements listing endpoints
The Element listing endpoints now support filtering with Worker Run IDs. This impacts the following endpoints: ListElements, ListElementParents, ListElementChildren as well as their Destroy counterpoints.
The order field on the ListElementChildren, ListElements and ListElementParents endpoints now supports new sorting parameters. The retrieved children elements can be sorted by the centroid of their polygons, according to a "reading order": horizontal-lr, horizontal-rl, vertical-lr and vertical-rl. For detailed explanations, see the API documentation.
Model Version API
To support the logging of metrics during Machine Learning training processes, the Model Version API has been updated. - The CreateModelVersion endpoint, which no longer requires the hash, archive_hash and size fields. It now creates "empty" Model Versions, without an archive, as the model hasn't finished training yet. - A new endpoint, ValidateModelVersion, validates the model archive and updates the Model Version to the available state.
Misc
Obsolete and unused fields (width, height and server) have been removed from the CreateImage endpoint.
The obsolete dates and raw_dates fields have been removed from Entity API endpoints.
The bulk classification creation endpoint CreateClassifications now requires either a Worker Run ID or a Worker Version ID to be set.
It is now possible to create Transcriptions on Elements that do not have a polygon and/or an image using the CreateTranscription endpoint.
Bug fixes
Worker Runs in a project no longer prevent its deletion.