TEKLIA is proud to unveil its novel photographic analysis service, a breakthrough in the field of digital iconographic collection management. Leveraging cutting-edge artificial intelligence technologies, TEKLIA has finely tuned its tools to offer a highly specialized solution through its innovative platforms, Arkindex and Ocelus. This service is specifically tailored to meet the complex needs of institutions such as museums, archives, libraries, cultural foundations, and art galleries.
Intelligent Image Identification
The process begins with precise detection of photographs and illustrations, isolating these graphic elements from the text and background. Imagine the ability to instantly sift through vast archives to detect and locate every image, an invaluable capability for curators and archivists dealing with large volumes of mixed documents.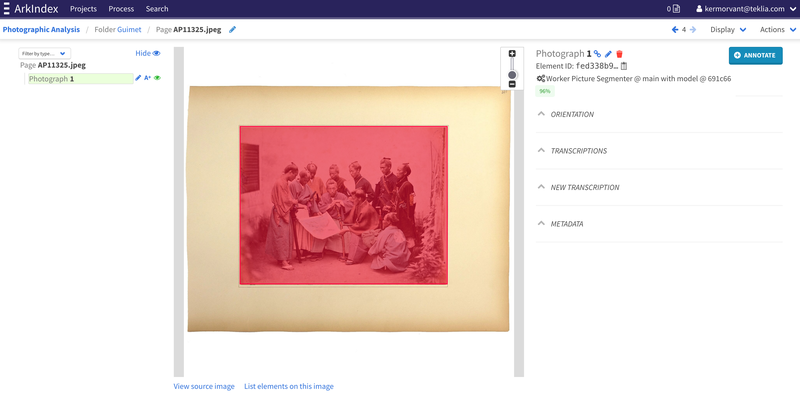 Advanced Content Analysis
At the heart of this service lies a detailed analysis of visual content. Going beyond mere identification, TEKLIA interprets images through a lens of customizable indexing criteria, offering considerable potential for thematic research or digital cataloging. This analysis can adapt to various frameworks and reference systems, such as the Thesaurus For Graphic Materials or BNF's INTERMARC, providing flexibility to integrate with the existing systems of institutions.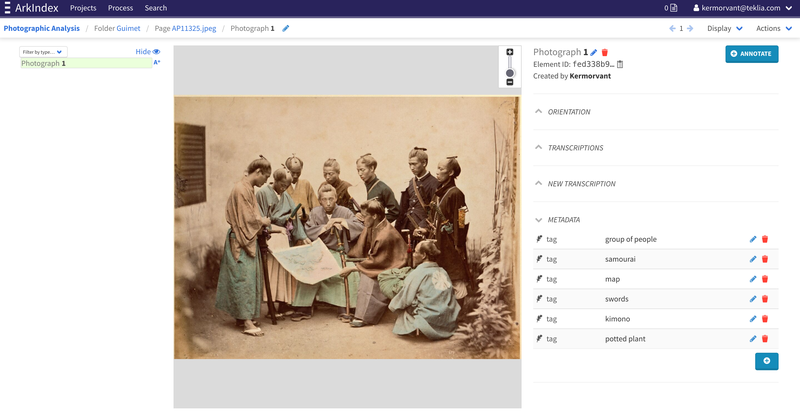 Object Detection and Extraction
The capability to identify and extract objects, individuals, or architectural structures from images opens the door to in-depth studies. For example, art historians can isolate and compare artworks or artifacts across different images to analyze stylistic or technical evolution. Similarly, archaeologists could study objects extracted from site excavation photos, allowing for detailed comparison across different contexts and periods.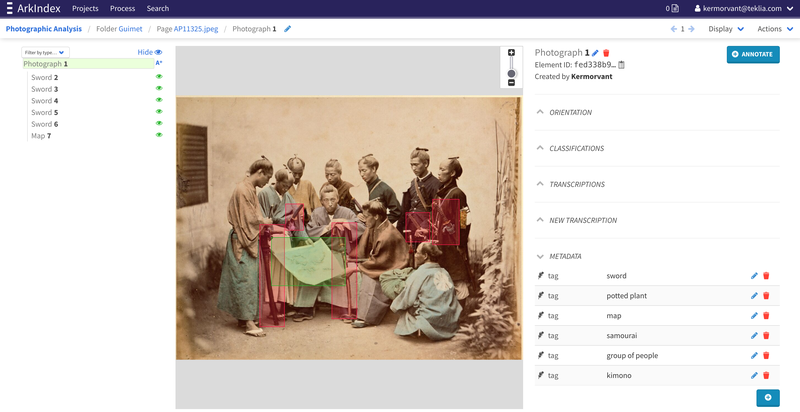 Potential Use Cases and Applications
Collection Management: Collection managers can automate the sorting and organizing process of images, saving precious time and enhancing accessibility.
Academic Research: Humanities researchers can analyze recurring motifs in visual arts or track the representation of a specific cultural theme across image collections.
Education and Engagement: Educational institutions can integrate these analyses into interactive tools for teaching art history or visual culture.
TEKLIA's new offering opens up exciting prospects for the digitization, study, and preservation of the world's graphic heritage, enriching not only the management of collections but also the appreciation and understanding of cultural history on an unprecedented scale.
Pilot Study: Digitizing Japanese Photographic Heritage at MNAAG
Supported by the French Ministry of Culture through the France 2030 plan, TEKLIA's pilot study with the Musée national des Arts asiatiques - Guimet (MNAAG) focuses on a prized collection of 280 Japanese photographic albums from the mid-19th to the early 20th century. This initiative aims to leverage our sophisticated AI-based photographic analysis tools for digital preservation and enhanced accessibility of these historic images, providing a rich cultural context and aiding in the promotion of digital heritage conservation.
Ready to Experience the Future of Photographic Collection Management?
Contact us today to explore how our innovative solutions can be customised to bring your collection into the digital age, improve your research capabilities, and engage your audience like never before. Let us embark on a journey of discovery and preservation together.